It's gonna be a long year
I fear we're in for a ton of Mayan-calendar themed comics ... mostly by people who
don't get the Mayan calendar at all
. Bottom line: the calendar is
cyclic
. When it gets to "the end", it just
starts over
.
A couple of years ago
Brewster Rockett took a shot at it
, with Pam the voice of reason. And amazingly, of all people to get it right,
Jeremy of Zits did
.
But we're two days into the year, and in the limited collection of strips in my father's local paper there have been two strips so far, one each day - and both are saying the world will end. First yesterday's
Mother Goose and Grimm
and today's
Freshly Squeezed
I fear the rest of the year...
Although there's a tiny chance that
xkcd
can take point... maybe?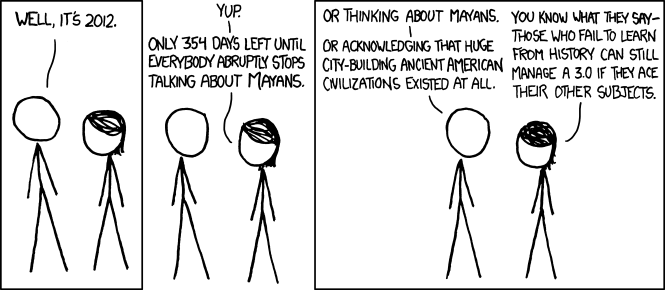 Labels: humor