The Week in Entertainment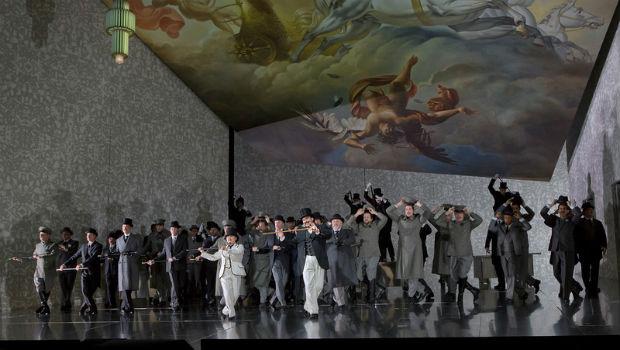 Live:
Un Ballo en Maschera
, the last opera of my season. Dmitry Hvorostovsky and Sonja
Radvanovsky, with Ricardo Tamura standing in for the ill Piotr Beczała as the king. An excellent cast in a very iffy production (stark and at the same time over the top - yes, yes, the king is Icarus, we get it. We don't need to see the painting in every scene).
TV: Caught up on
Grimm
, of which there were
quite a few
stacked up on the DVR and which is building to a heckuva climax, that's for sure. (If they kill off Sean Renard I shall be pissed off.) (Also, note to production staff: If you end an episode with Nick being forced to shoot Monroe, saying desperately "I can't stop it!", and then go to black and the sound of a gunshot... don't show Monroe hale and healthy in the promos for next week.)
Read:
The Forgotten
by Bishop O'Connell, a sequel to
The Stolen
, in his American Faerie series. I like it much better than the first one, which was enjoyable enough.
Mitigating Jeopardy
, a collection of short stories first published in the 1950s, which was not to my taste though YYMDV; just a kind of humor I don't care for. Also began
Traitor to His Class
, H.W. Brand's new biography of FDR.
Labels: entertainment